Undergraduate and graduate programs
Tools, services and useful info
AKSOB at Annual AACSB Conference
Rula Asfour represents AKSOB in the annual AACSB Assessment Conference.
May 06, 2016
The annual AACSB Assessment Conference took place in March, in Charlotte, NC, attracting over 200 faculty members, administrators, department chairs, associate deans and deans from more than 150 universities and 23 countries. Participants are typically involved in the assurance of learning and assessment processes at their respective business schools. Ms. Rula Asfour, Senior Assessment Officer at the Lebanese American University's Adnan Kassar School of Business and an active member of the AACSB Exchange discussion forum, was invited as a speaker to share her experience at the School.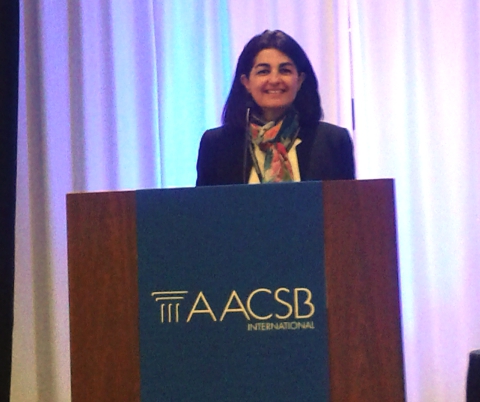 Starting with the history and background of LAU, including a richly illustrated timeline, Asfour described how the School would continuously undergo program reviews, where modifications would be aligned with the institutional and school mission, taking into consideration faculty expertise. She shared how in fulfilling the civic engagement commitment in its mission, the School recently introduced a 0-credit course which would be a guided service experience, where approximately 700 students would serve the community every year – a course that proved to be much needed, especially with the influx of refugees that the country is currently witnessing. Students embraced the new change and many of whom expressed that it was a "life-changing experience".

Asfour also shared the AKSOB assessment process, where data, in its numerous types including percentage, integers, text and binary, was typically received at the assessment office, then normalized, synthesized and transformed into effective infographics for efficient analysis of assessment-driven changes.
Many attendees were impressed by LAU's approach. "Your presentation made my day!" said Rosane Gertner, Associate Professor at College of Staten Island, NY.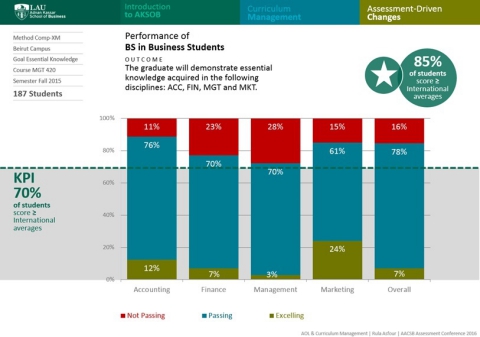 "Not only was Rula's presentation well-prepared, informative and thought-provoking, it was also beautifully delivered. She handled audience questions adroitly, and was a generous and organized partner to myself and Dr. Jain in coordinating our joint appearance", said Elizabeth Rossini, Assistant Dean at Montclair State University, New Jersey.
Experienced in curriculum and program assessment, Asfour started her career as a software quality assurance engineer in Boston, MA, working with companies such as America Online and Dictaphone. At LAU AKSOB, Asfour combines her IT experience with her commitment to improving education.