Dean's Message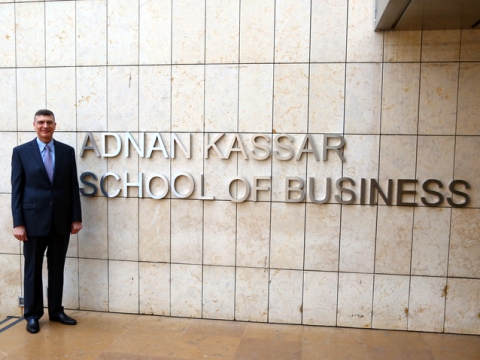 Welcome to the Adnan Kassar School of Business at the Lebanese American University. Our strategic alignment plan for the AACSB accreditation has been approved. As the Interim Dean, I am extremely excited to be part of a school which continues to pride itself by providing its students with an outstanding teaching environment, rigorous coursework and teamwork spirit. Most importantly, the school continues to focus on each student as a lifelong learner and as a leader of business and society.
The newly revised curriculum for undergraduate students emphasizes applied learning, civic engagement, ethics, leadership, communication skills, along with the nuts and bolts of business. Our school offers MBA and EMBA programs, houses four institutes and has founded the international academic peer-reviewed journal the Review of Middle East Economics and Finance, published in the USA. The faculty of the Adnan Kassar School of Business are graduates of prestigious universities and are known for their commitment to teaching, engagement in scholarly research and contributions to professional societies.
The school's alumni and supporters are active stakeholders of our success story and they continue to exhibit generosity and dedication to propel the school forward. Our soon-to-be developed school advisory council shall provide us with advice, speakers' forums and supporting activities to produce world-class business graduates.
The LAU Adnan Kassar School of Business is in the middle of a significant advancement phase that will propel the school to new heights of academic excellence and innovation. It is my pleasure to invite you to be part of this exciting adventure.

Said M. Ladki, PhD
Interim Dean
Adnan Kassar School of Business
Lebanese American University