Master of Arts (MA) in Applied Economics
Location: LAU Beirut.
Duration: two years (full-time)
Total Credits: 30.
Department: Economics
The study of economics has changed considerably since the introduction of mathematical and econometric methods of analysis. The Master of Arts (MA) in Applied Economics provides interested candidates with an in-depth understanding of economic theory and applied quantitative methods.
The program prepares future professionals for jobs as applied economists in the private and public sectors. The student will learn how to gather, read and assess economic data, as well as conduct relevant policy analyses that are most valued by businesses, organizations, and policymakers. The program is also designed to be an intermediate step to the PhD in Economics or related fields.
Admission
Admission to the graduate programs offered at the Adnan Kassar School of Business follow the LAU general graduate requirements.
In addition to the following:
Holders of a bachelor's degree in economics, in any related field (such as finance with a minor in economics), or in a quantitative field (i.e. mathematics, physics, computer science, engineering) are eligible to apply.

A minimum GPA of 3.0 is required.
Program Requirements
The program consists of 30 credits with core courses emphasizing advanced microeconomics, macroeconomics, econometrics and quantitative methods. A selection of diverse topics totaling 9 credits constitute the elective component. The topic courses survey current policy issues in local, regional and international contexts.
To obtain the MA degree, students should complete a total of 30 credits composed of:
- Core Requirements (18 credits)
- Elective Requirements (9 credits)
- Capstone Project (3 credits)
The Applied Economics Project course is a research project written under the supervision of a faculty member. Students are required to use economic models and tools to tackle an applied economics problem. Students are then required to present their work in a forum open for economics faculty and graduate students.
Core Requirements (18 credits)
| | | |
| --- | --- | --- |
| Number | Course | Cr. |
| ECO821 | Advanced Microeconomics | 3 |
| ECO822 | Advanced Macroeconomics | 3 |
| ECO831 | Applied Econometrics I: Cross Section and Panel Data | 3 |
| ECO832 | Applied Econometrics II: Time Series Data | 3 |
| ECO833 | Applied Econometrics III: Empirical Strategies for Applied Microeconomics | 3 |
| ECO840 | Mathematical and Computational Models in Applied Economics | 3 |
Electives (9 credits with minimum 6 credits in economics)
Number
Course
Cr.
ECO835
International Monetary Theory and Policy
3
ECO850
Environmental and Resource Economics
3
ECO852
Public Economics
3
ECO855
Growth, Business Cycles and Economic Policy
3
ECO861
Economic Policies in the Middle East
3
ECO863
Challenges of Economic Development in the Middle East
3
ECO880
Special Topics in Economics
3
Non-economics Electives
FIN835
Commercial Bank Management
3
FIN863
Financial Derivatives
3
FIN836
Modern Portfolio Management
3
OPM880C
Sp.Top.OPM: Operations Management
3
ACM724
Linear Programming
3
CSC615
Machine Learning
3
CSC688C
Top.CSC: Data Visualization
3
IGS725
Gender and Public Policy
3
INA831
Intl. Political Economy
3
MIG765
Migration and Development
3
MA Project (3 credits)
| | | |
| --- | --- | --- |
| Number | Course | Cr. |
| ECO898 | Applied Economics Project | 3 |
Program Outcomes
The MA in Applied Economics program places a significant emphasis on research experience, preparing our students to understand and analyze complex economic theories but also to apply these theories in a practical research setting.
Comprehensive econometrics training is a crucial part of the program. With three specialized econometrics courses, our students are equipped with robust quantitative skills, enabling them to model, forecast, and analyze economic and social phenomena. Throughout these econometric courses, students learn how to use the appropriate tools (i.e. Stata) needed to analyze datasets, perform statistical analyses, and make evidence-based economic decisions.
The real-world application of skills is integral to our approach. Students are encouraged to delve into various research projects, applying economic theories and econometrics skills throughout their studies. These projects span a variety of economic issues, enabling students to broaden their understanding and find their unique research interests.
To graduate, students must complete a Research Project under the supervision and mentorship of experienced faculty, allowing them to apply their accumulated knowledge and skills to craft and address a unique research question. Students undertake the complete process of conducting research, from formulating a research question to presenting findings in a structured academic paper, with some students managing to publish academic research papers in reputable peer-reviewed journals.
This focus on practical research experience equips our students with a deep understanding of applied economics and provides a solid foundation driving their success in a Ph.D. program and their professional careers. Upon graduation, our students are adept at handling complex data, conducting rigorous research, and interpreting and presenting their findings – skills that are highly sought after in academia, government, industry, and non-profit organizations.
The combination of comprehensive econometric training and real-world research experiences shapes our students into accomplished researchers. They graduate with a portfolio of research projects demonstrating their ability to contribute innovative insights to the field of economics. Whether they proceed into a Ph.D. program or a professional role, our graduates are equipped to drive economic research and policymaking, contributing to real-world decisions.
Upon completion of the MA in Applied Economics the graduate will:
Possess advanced knowledge in the areas of microeconomics, macroeconomics and econometrics.
Be capable of using economic theory and econometric models for assessing public policies.
Understand and work with advanced macroeconomic and microeconomic models.
Apply advanced mathematical and econometric techniques to analyze economic data.
Interpret and critically evaluate articles in the economics research literature.
Use advanced economic theory and empirical methods to evaluate public policy decisions.
Critically analyze government economic policies.
Joint Publications with Faculty Members
Graduate Placements
Many of our Applied Economics graduates got admitted into top-ranked Ph.D. programs, and secured employment opportunities in international organizations, consulting firms, NGOs and multinational corporations.
Ph.D. Placement:
HEC Montréal, Ph.D. in Applied Economics
University of Ottawa, Ph.D. in Economics
Concordia University. Ph.D. in Economics
University of Manchester, Ph.D. in Economics
University of Houston, Texas, Ph.D. in Political Science
University of Cyprus, Ph.D. in Economics
Carleton University, Ph.D. in Economics
University College London (UCL), Ph.D. in Political Science
Industry Placement:
World Bank
United Nations Economic and Social Commission for Western Asia (ESCWA)
Institute of Global Prosperity – UCL
Chevron Corporation, American multinational energy corporation
Korn Ferry, Global organizational consulting firm
League of Arab States
American Near East Refugee Aid, NGO
The Arab Council for Social Sciences, NGO
Testimonials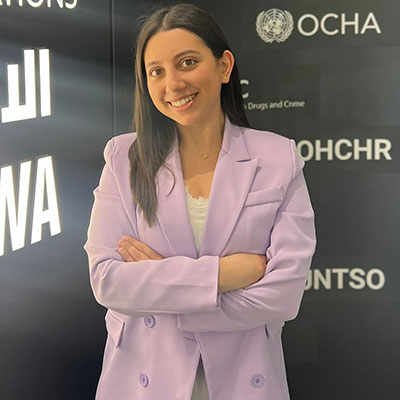 Wafaa El Baba, Research Analyst, UN-ESCWA
As an alumna of the M.A. in Applied Economics Program at LAU, I am proud to affirm that the program excels in preparing its students for a seamless school-to-work transition amid a fast-paced labor market characterized by high uncertainties and disruptions. The program's knowledgeable and supportive faculty and well-tailored educational curriculum equipped me with the necessary expertise to embark on my career as a research analyst at the United Nations. Engaging with the faculty in extracurricular research work elevated my research and analytical skills and helped me identify and refine my research interests for future career and educational opportunities. The program's emphasis on its applied aspect proved invaluable in meeting the current demanded skills in the job market.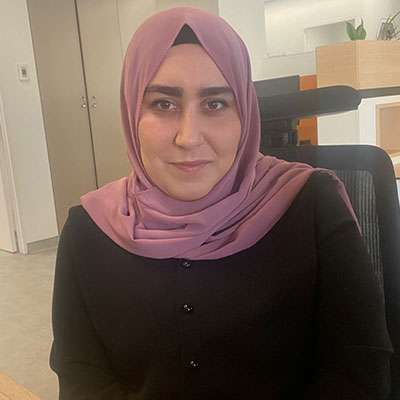 Sara Kassab, Research Analyst, UN-ESCWA
The M.A. in Applied Economics program at LAU has been a transformative journey that has enabled me to reach new heights in my career and life. The program's consistent emphasis on practical applications has been exceptionally beneficial, equipping me with the proficiency to produce a research paper from inception, a skill I once thought was beyond my reach. The faculty members' continuous assistance and support have been priceless. They have guided me to explore new horizons and grow both personally and professionally. As I begin my journey as a research analyst at the United Nations, I am filled with a strong sense of confidence and preparedness, knowing that this program has provided me with the necessary tools and knowledge to excel in my new position. I will be forever grateful for the opportunities and experiences this program has provided.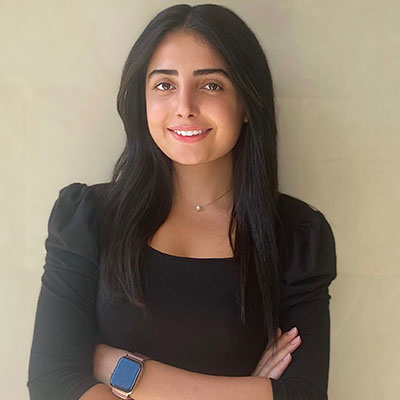 Zeina Lizzaik, Ph.D. Candidate in Economics, Concordia University
The M.A. in Applied Economics program at the Lebanese American University (LAU) has been an enriching experience that has facilitated both my academic and professional growth. Students enrolled in this program gain valuable experience in diverse economic areas and acquire a vast amount of knowledge through the program's coursework, thanks to the supportive faculty. Furthermore, the program actively promotes research and professional growth through internships and research assistantships, among other opportunities. As I prepare to take the next step in my academic journey with a Ph.D. program, I am sincerely grateful for the knowledge and experiences gained through this exceptional program. I am confident that the strong foundation and expertise acquired will undoubtedly play a pivotal role in shaping my academic and research aspirations for the Ph.D. program and beyond.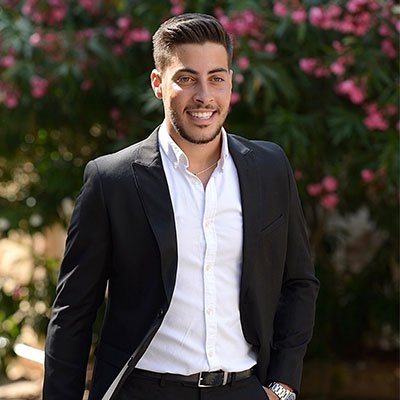 Pierre Boutros, Ph.D. Candidate in Economics, University Côte d'Azur
Pierre Boutros is currently pursuing his Ph.D. in Economics at GREDEG, a research center associated with the University Côte d'Azur, and he is a consultant at the Lebanese Center for Lebanese Studies (LCPS). He received his master's degree in Applied Economics from the Lebanese American University and Bachelor's degree in Financial Engineering from La Sagesse University. He has been active in research and policy reports. His research areas include economics of science, labor economics, and applied economics. Pierre also contributed to the book "The Middle East and North Africa 2022".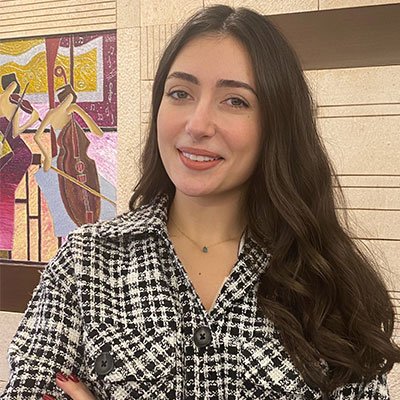 Yara Sleiman, PhD Candidate at the Department of Political Science, University College London
The M.A. in Applied Economics program was a challenging but rewarding experience that allowed me to grow academically and professionally. The coursework helped me advance my empirical research skills and learn how to effectively handle complex datasets in my research. This skill set has been instrumental in my pursuit of a doctoral degree and has set me up for success in my academic career. I was also fortunate to have had the opportunity to work with a dedicated and knowledgeable faculty who were always willing to provide guidance and support.
Ghina Abdul Baki, Ph.D. candidate in Economics, University of Ottawa
"The Applied Economics Graduate Program at LAU offers a high educational quality that is vital for a future career or academic success. It also creates supportive and encouraging learning and research environment for students to step out of their comfort zone, and that is what defines an authentic education."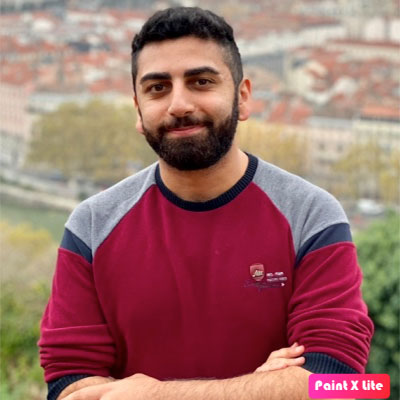 Giorgio Maarraoui, Ph.D. candidate in Economics, the University of Manchester
"The M.A. in Applied Economics has greatly boosted my software skills (STATA, Mathematica, and GAMS) as an economist. Needless to say, knowledge of these skills is in high demand in the labor market in Lebanon and abroad. In addition, the program not only enriched me with the theoretical baggage needed for a Ph.D., but also allowed me to learn how to write referee reports, think about real-life economic problems strategically and methodically, and write economic papers from A to Z."