Classrooms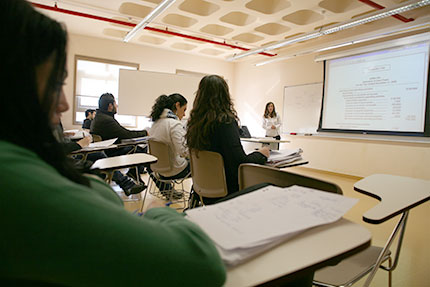 Classrooms are equipped with modern technology to enhance instruction & learning.
Beirut
The business school building on the west end of the Beirut campus houses:
Two fully equipped lecture halls, each with 153 seats.
19 smart classrooms that accommodate between 30 and 60 students each.
A simulation room.
This adds up to more than 1,700 square meters of instruction/lecture space.
Byblos
The 5,240-square-meter Frem Civic Center has been host to the School in LAU Byblos since 2011. It has the following facilities:
Offices, classrooms, labs, several LAU institutes, lecture halls and a state-of-the-art multi-purpose hall.
All 12 classrooms in Frem Civic Center are equipped with the latest computer technologies and can accommodate up to 44 students.
The School also boasts the latest technologies in video conferencing and presentation management in the two seminar rooms — FCC401C and FCC406.
A lecture room that accommodates up to 500 attendees. It is used by the School in lectures and presentations.