Undergraduate and graduate programs
Tools, services and useful info
All About Business in New York
Our MBA, EMBA and LLM students get firsthand knowledge in the Big Apple.
Sep 11, 2015
Adnan Kassar School of Business recognizes the importance of experiential learning, one which introduces the student to the dynamics of the local and international business markets.
The NY study trips, organized regularly, are a perfect approach to teach students about selected topics in business, namely management, marketing and law. The tour presents graduate students with practical know-how through a series of lectures, business visits to multinational companies and organizations, as well as through presentations given by industry experts and government officials.
In August, the courses organized by the school at LAU's headquarter in NY were comprised of special topics in management for MBA and E.MBA, given by marketing professor Dr. Nadia Shuayto, and of the "Compliance for Financial Institutions" for LLM, with instructor Mr. Joey Chbeir, lawyer at Maynard, Cooper & Gale.
MBA and EMBA students had a series of lectures related to profit and non-profit management practices, in addition to insights of service, retail and tourism management in the metropolitan city. Accordingly, they had the opportunity to make several business visits – the UN Headquarters where they were given a guided tour of the organization's divisions; WeWork company, a shared workspace for entrepreneurs, freelancers and startups; NYC & Company, a marketing and tourism organization dedicated to the city; Lord & Taylor, a luxury department store; online platform Birchbox; and luxury designer and manufacturer, Capelli.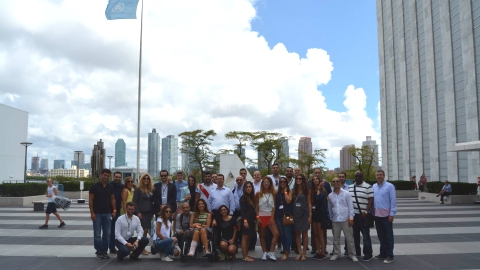 MBA and E.MBA students at the UN Headquarters
One of the noteworthy lectures was given by Mr. Peter Malachi, SVP Communications at Hermès, who explained the marketing strategy the luxury giant followed to ensure a consistent brand image – the secret lay in targeting its niche audience!
"It was such a beneficial experience. This is not my first course in New York with LAU" said Mohanad Zebib, MBA student and member of the Family Business Network at LAU. "We had a blend between MBA and E.MBA, so we learnt a lot from the E.MBA students and they learnt from us as well."
As Zebib explained, the lectures with Dr. Shuyato were rich in exchanging perspectives and in providing examples, which ultimately added to the understanding of each subject discussed in class. One of the discussions with Shuayto was about corporate politics; "E.MBA students shared their advice with us, given their more extensive experience" as Zebib added.
Although attending different lectures – ones related to the U.S. legal system, financial regulations, and the creation of a culture of compliance and effective monitoring habits, among other relative topics – LLM students also had the opportunity to visit the UN Headquarters, Wall Street, Bank of America, renowned law firm King & Spalding and notably, the NY Supreme Court.
Since the LLM program covered the best practices of law linked to business, primarily through the American legal perspective, it was adamant for students to witness the workings of the system in one of America's essential financial and business hubs.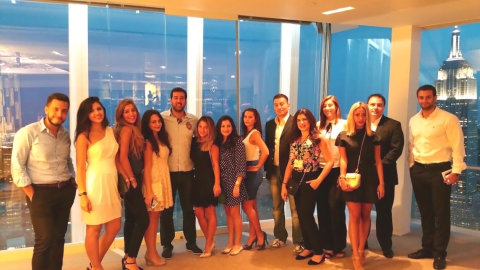 The LLM students with instructor Joey Chbeir and Hisham Hashash
"You have to see it from their perspective, on a practical level, to have a full understanding of what you are studying" said LLM student, Mohammad El Hajj; " we witnessed a trial, so you see how things happen", he continued, referring to their visit to the Supreme Court.
"There were pre-determined subjects in the lectures, but the visits added more to our knowledge, with extra material. It was a very rich experience." as El Hajj concluded.
Loujaine Dandach, also an LLM student, expressed her opinion of the program saying "I have a background in law studies, with a bachelor and a master's degree, however, what I appreciate about the LLM program is that it has the practical aspect, not just the theoretical one."
She added: "the topic was a very interesting one, especially since many of the students had a business background and worked in banks and financial institutions. We were 12 students, and it was more than just a course; we all became friends and we would love to relive the experience, although most of us are graduating soon."
For more information regarding these courses and future trips please contact:
Hisham Hashash
Adnan Kassar School of Business, Beirut campus
14th floor - Cooperative Learning Center
Room 1401