Undergraduate and graduate programs
Tools, services and useful info
The "Online Marketing and Social Media Management for Family Businesses" Workshop
Online marketing and social media management tools for family businesses.
May 07, 2015
On Tuesday May 5, the Institute of Family and Entrepreneurial Business hosted the engaging workshop at the LAU Executive Center in Beirut Central District, with speakers Adil Gherib and Kristyna Zapletalova from MAQTOOB who explored competent and cost-efficient strategies and applications to use in online marketing and social media management.
Zapletalova began by identifying the targeted audience and pinpointing the importance and difficulty businesses face in reaching their online audience – with millennials, individuals who are between the ages of 17 and 31, representing the largest percentage of internet users.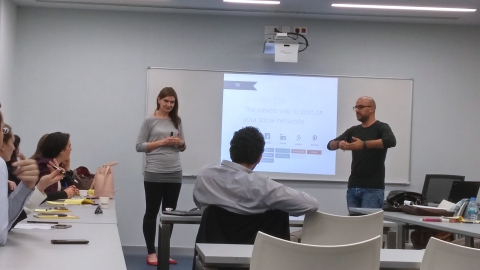 "You have two seconds to get your audience's attention" she added, while confirming the essential role of content marketing.
In discussing the crucial subject of content marketing, Zapletalova explained about search engine optimization with keywords, backlink content and headlines, sharing tips with attendees on how these former may be used in order to adequately promote their brand, products and ultimately induce action and sales. The speakers also explained the importance of e-mail marketing and of regularly sending valuable e-mails, ones that presented general information deemed interesting to the audience and not just sales-inducing ones, to a list of subscribers that should be updated consistently.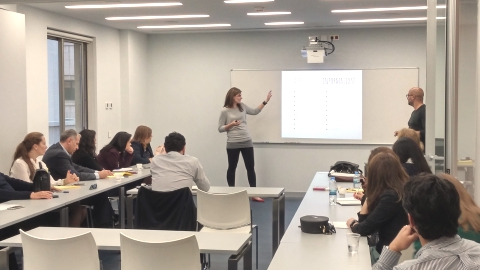 They then focused on social media management tips, clarifying the use of each social platform, the notion of engagement frequency content and the type and form of valuable information to share. They also showed the attendees reasons why their businesses could fail in social media management — few or too many posts, bad content, never engaging, forgoing images and hashtags, and not knowing their audience.
In order to support family businesses, which often needed cost-saving and effectual resources, Zapletalova and Gherib suggested advanced and user-friendly applications featured on MAQTOOB and explained how they could be used to produce powerful online content and promotion, aimed at simplifying the-mentioned-above matters for the more traditional type of strategic organization.