Undergraduate and graduate programs
Tools, services and useful info
Alumni Group Honors Outgoing Dean
The Alumni Advisory Group holds celebration for outgoing AKSOB Dean Said Ladki
Sep 06, 2018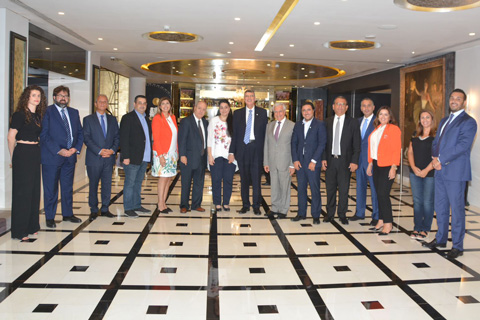 LAU's Alumni Advisory Group organized a lunch in honor of outgoing Adnan Kassar School of Business (AKSOB) Dean Dr. Said Ladki.
The event, which took place on August 28 at Le Bristol in Beirut, was organized by Alumni Advisory Group Chairman Mahmoud Beydoun.
LAU President Joseph G. Jabbra and incoming Vice President for Advancement George Najjar were present to thank Dr. Ladki for his achievements and dedication to the school of business since taking the role of interim dean in 2013.
They presented him a silver plate in addition to a commemorative CEO pin from Dr. Fouad Zmokhol, president of the Association of Lebanese Business People in the World (RDCL World) and member of the LAU Board of Trustees.
Zmokhol thanked Ladki for his "great support and commitment to the Lebanese business community locally, regionally and internationally."
"Dr. Ladki was my professor more than 25 years ago," Zmokhol told the guests. "He is now my sincere friend, my colleague and a partner. We all wish him the best from deep in our hearts, and we are confident he will continuously succeed and grow."
He noted that Ladki was involved in AKSOB's recent successes, including accreditation by the Association to Advance Collegiate Schools of Business (AACSB). AKSOB is among only five percent of business schools worldwide to have the accreditation.
"He served, he delivered on all of his promises, and he stayed faithful to the missions of LAU and AKSOB," added Beydoun. "He made us all proud."
Ladki, who has been a faculty member at LAU since 1996, is now taking on the role of AKSOB's associate dean for accreditation. The University has appointed Dr. Wassim Shahin, Interim Dean of the Adnan Kassar School of Business, effective September 1, 2018.