Undergraduate and graduate programs
Tools, services and useful info
I Have an Interview. Now What?
Elementary and useful tips for a successful interview.
Aug 07, 2015
At last, you are asked for an interview for the job you have always wanted – in this competitive market, getting the call is almost too flattering; you are now two steps ahead. That is when you realize the importance of the interview to you and to the company you are applying to – nerve-racking!
But it does not have to be that stressful. After all, "to be prepared is half the victory", as declared by Miguel de Cervantes, a recognized Spanish novelist; and he is right.
There are many instructions and guidelines to make sure the interview goes smoothly but we have asked Mrs. Lina Abou Chacra, Career and Placement Officer at Adnan Kassar School of Business, to give us few fundamental tips, and she has put together the following list – simple yet, when applied, these tips are able to make all the difference.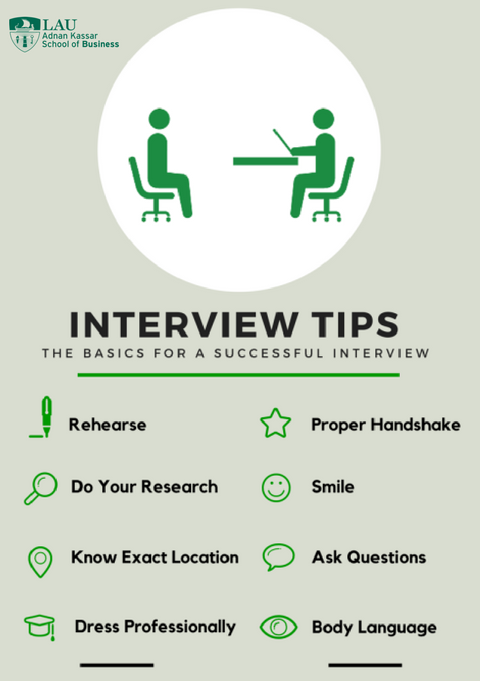 Rehearse
Prepare your answers for some typical questions that are always asked.
Do your research about the company
Review the company's website, learn more about the company's mission, goals and products/services. Also, try to find out who will be interviewing you and learn something about them from their online profiles.
Know the exact company address
Learn where the company is exactly located to avoid being late, and if you happen to be late, always call and let them know.
Dress professionally
It is always better to overdress than underdress. A dark suit (jacket and pants or skirt) and a white or any non-flashy colored shirt; simple make-up for girls; and clean, professional shoes.
Avoid anything flashy.
Proper handshake
The proper, professional way to shake is using the entire hand, extending your arm (first if possible) for a firm, but not too strong handshake.
Body language
Always sit up facing the interviewee and avoid crossing your arms and legs.
Smile
First impressions are very important; a smile conveys that you are someone who can get along with other employees, clients and who is a team player in general.
Ask questions
Ask few questions to learn more about the workplace to see if the position and environment are a good fit for you. Ask about the type of work, internship tasks, the company culture and if any training will be provided. Beside getting answers and clarifications, this will show the level of motivation and interest you have for the company's work.
If you would like to get more information about the mentioned tips or know additional ones, rehearse certain questions or simulate a professional job interview, please contact Mrs. Lina Abouchacra, ext 1775, or drop by her office in Shannon Hall.
You may also check Career and Placement for resume samples.