Undergraduate and graduate programs
Tools, services and useful info
The 2016 Inter-universities Finance Competition
LAU students among the winners.
Apr 20, 2016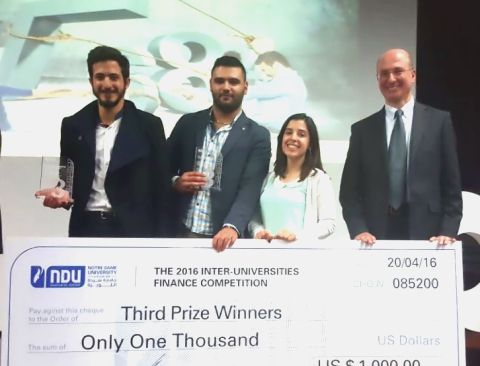 LAU AKSOB students participated in the inter-universities finance competition, which took place on April 20, at Notre Dame University, Louaize, competing against five other teams from well-known universities in Lebanon.
Lasting all day, the competition required students to handle solving and reading questions, as well as present a case study, upon which the final result would be deliberated and announced.
The LAU AKSOB team — Mirna Chehab (L' emira), Montasser Hassanieh and Marwan Hteit — guided by Assistant Dean and Professor of Finance Zaher Zantout, put forward a well-rounded case study and won the third prize.