Cooperative Learning Center
The CLC provides support to students who are experiencing academic difficulties. Business students who need academic help receive free tutoring services provided by MBA student assistants.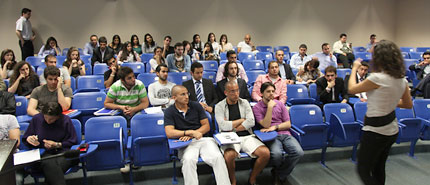 The Cooperative Learning Center became functional in spring 2006.
The Cooperative Learning Center provides tutoring to small groups of students with different levels of ability. These sessions aim to prepare students for their quizzes, exams and home assignments. Through this process, we improve learning and academic achievement, increase retention and enhance our students' overall satisfaction with their learning experience.
Group tutoring sessions are scheduled every semester based on the academic needs of the students. One-on-one tutoring is also provided for courses which are not scheduled.
The Cooperative Learning Center also organizes workshops which provide valuable workplace skills that make business students more employable upon graduation.
Tutoring Sessions
The tutoring sessions provided by the Cooperative Learning Center are offered as a free service for all currently enrolled business students. We follow a student-oriented approach which offers students the opportunity to develop and integrate active learning and study skills. Best of all, our tutors are currently enrolled graduate students who know firsthand what it is needed to excel in business courses at LAU. Therefore, students who avail themselves of our services can gain insight and assistance from peers who have successfully completed the course in which they seek tutoring.
One-on-one tutoring is also provided for courses which are not scheduled. Those sessions include assistance in courses such as Introduction to Business, Introduction to Management, Introduction to Marketing, Cost Accounting, Security Analysis, Strategic Planning, MIS, Business Math, and Human Resource Development.
All tutoring sessions provided by the center are conducted by proficient graduate MBA students. Graduate Assistants are selected based on academic performance and specific criteria. All Graduate Assistants go through an orientation on services.
Workshop Sessions
An important part of the mission of the Cooperative Learning Center is to contribute to LAU's academic excellence by providing services to business students that enhance their employment skills.
By adopting the cooperative learning approach, the workshops are interactive and far more dynamic. Exercises, role playing, presentations by the students and mock job interviews have been employed to make our workshops as beneficial as possible.