Undergraduate and graduate programs
Tools, services and useful info
Bankmed Online Trading Competition Concluded
A closing ceremony to award the winners.
May 23, 2016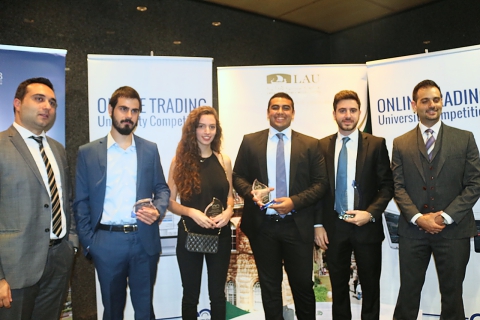 AKSOB senior students had a chance to compete in Bankmed's first online trading competition in Spring 2016, from February 15 to March 15. Five students out of thirty were selected as the outperformers, based on the competition's weekly results.
Consequently, on April 27, a jury from Bankmed, consisting of Head of FX & Treasury Sales Ahmad Alwan, Head of Talent Management & Training Rola Ejjeh, and Section Head Online Trading Wissam Moussa, was present at LAU AKSOB to assess the students' presentations of their work and experience gained in the competition. Representing LAU AKSOB in the jury were Assistant Dean and Professor of Finance Zaher Zantout and Associate Professor of Finance Bernard Ben Sita.
A concluding ceremony was held on May 10, at Bankmed's headquarters in Clemenceau, Beirut, in which the selected students from the participating universities – AUB and LAU – were awarded per rank.
Bankmed's Chairman of the Board and GM Mohammed Hariri addressed the winners and the attending university faculty members and administrators with motivational words, congratulating them on the excellent results. He then distributed the monetary awards to students alongside EGM Mohamad Ali Beyhum and representatives of the respective university.
Zantout was present on behalf of LAU and supported the School's winners – from first to fifth – Abdel Hafiz Anouti, Hesham El Yafi, Hanaa Bou Hamdan, Marc Madi and Caren Kiwan.
The first-place winner, in addition to his highest monetary prize, will have an internship opportunity and a recommendation letter from Bankmed.