Undergraduate and graduate programs
Tools, services and useful info
Congratulations to Dr. Abdul-Nasser Kassar
Associate Professor Abdul-Nasser Kassar receives the Post-Doctoral Bridge to Business certificate.
Aug 08, 2015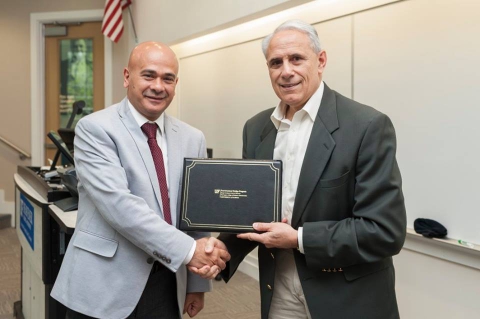 Kassar with John Kraft, dean of Warrington College of Business Administration
Congratulations are in order for Dr. Abdul-Nasser Kassar, associate professor at the Department of Information Technology and Operations Management at Adnan Kassar School of Business, for completing the Post-Doctoral Bridge (PDB) program offered by Hough Graduate School of Business at Warrington College of Business Administration, University of Florida.
With a Ph.D. in Mathematics and two master degrees, one in Mathematics and one in Engineering Management, and with his extensive research and teaching knowledge, Kassar is the ideal candidate for the PDB program, designed for holders of non-business doctoral degrees who wish to be involved in business education.
The selective PDB program from the University of Florida is part of three AACSB-endorsed programs that aim at providing opportunities for qualified doctoral faculty from disciplines other than business to teach in the different academic areas of business.
The school will continuously support faculty development in its mission to provide quality education – this represents a stepping stone in its successful journey toward becoming AACSB accredited.