Giving Back to the Community
AKSOB students volunteer to paint an orphanage with NGO Crosstalk.
" Never doubt that a small group of thoughtful committed citizens can change the world. Indeed. It is the only thing that ever has." - Margaret Mead
Our students teamed up with Crosstalk to work on restoring an orphanage, as part of the volunteer activities entailed by the Civic Engagement course.
Crosstalk is an ecumenical Christian education NGO – they provide biblical and spiritual classes, teach ecumenism which promotes Christian cooperation and organize activities to help the community.
The Bus299 Civic Engagement course is a core requirement for the B.S. in Business Studies and is designed in cooperation with LAU's Outreach and Civic Engagement Office. This course introduces undergraduate students to the numerous NGOs operating in Lebanon and the region, as well as to their active causes.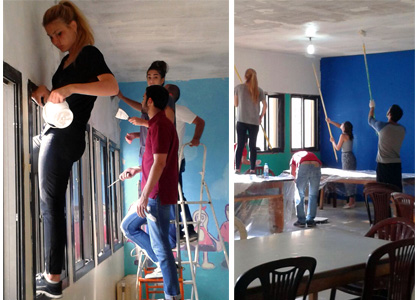 Our students demonstrated teamwork and citizenship skills through their dedication to help the NGO paint the orphanage, and learnt about the importance of cooperation for social development, given that the latter was crucial for business and economic growth.
Businesses of today acknowledge the importance of corporate social responsibility and of being involved in projects that aim at improving the community in which they belong or operate.
In addition to providing high-standard teaching and quality undergraduate and graduate programs, AKSOB's mission incorporates civic engagement as a vital element in student learning, and the school fosters an environment that promotes ethics and social responsibility to develop active members of society.
Fore more information regarding the Civic Engagement course, please contact Mrs. Lina Abou Chacra