Undergraduate and graduate programs
Tools, services and useful info
LAU, Building Capacity Among the Youth
Lebanese minister of labor offers LAU award in recognition of its efforts in supporting youth development following Fisherman's Friend competition.
Aug 18, 2016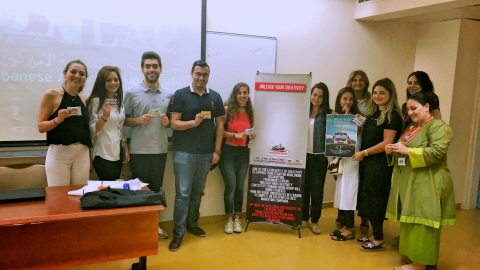 Following the Fisherman's Friend "Unleash Your Creativity" contest where two LAU teams from the Integrated Marketing Communication course had reached the semi-finals which took place on August 6, Minister of Labor Sejaan Azzi offered LAU an award in recognition of its initiatives and efforts in building capacity among the youth. Chair of the Department of Hospitality Management and Marketing (HMKT) Dr. Josiane Fahed-Sreih received the award on behalf of the University and was proud of the students' creative and professional presentation.
The competition had involved the creation of a comprehensive communications strategy — offline and online plans — for Fisherman's Friend, an international brand of menthol lozenges under Hosri Group in Lebanon. The two LAU teams, supervised by their instructor Ms. Joelle Majdalani Hachem, had been selected as semi-finalists from a total of fifty groups representing their different universities in Lebanon.