Undergraduate and graduate programs
Tools, services and useful info
Eyes on Experience
What Adnan Kassar School of Business students gained from summer training in a multinational firm.
Oct 07, 2015
On Tuesday, September 2, 2015, a graduation ceremony for university students took place in Smallville Hotel – the conclusion of a constructive internship program at PMI Lebanon.
During the ceremony, interns from various universities received their certificates, and discovered aspects of themselves, as seen through the eyes of the PMI supervisors, in a fun and non-conventional adieu.
Prior to the graduation ceremony, on September 1, the interns were required to work on a business case simulation where the main task consisted of creating a two-year scenario, based on the industry in which PMI operated, involving all areas of business and making decisions centered upon their findings.
The exercise was used to reinforce and assess what the interns had learnt during the training period, and to pinpoint strong candidates through presentations of their respective results.
The LAU interns presented their studies of the products, showcasing professionalism, insight and resourcefulness, as shown by the PMI management's observations.
The selective two-month program had a clear objective – to develop talents through projects, department tasks and field work. This would allow interns to grow their skill set and discover their preferred career paths.
And so it did.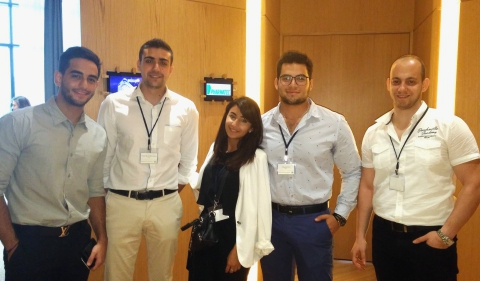 The 10 Lau interns, students and recent graduates, unanimously expressed their contentment with the program, albeit intensive and demanding.
Some voiced the reasons of their fulfillment – discovering potential they never knew they possessed, as well as honing skills linked to communication, patience, determination and people-orientation.
"Most of us worked in the commercial department and we basically had to do a lot of field work. This was helpful in various ways – it helped with our confidence, communication skills, and also with strategic planning because we had to come up with plans to tackle tasks and get to the retailers in most Lebanese regions" as affirmed by student, Abdallah Bazzy.
Business Marketing alumna, Tracy Sarkis, also thought the most challenging part was the problem-solving one, mainly in coming up with answers to simplify reaching the shops, which were often in distant areas.
"It was all in all challenging, and i applied what I learnt in the final case study at LAU; it helped me a lot in the business case scenario at the firm, because I had already a good idea of how to work on one", as Sarkis continued.
Similarly, Khaled Eid, a senior in marketing, minor advertising, did not expect to benefit this much from the internship – "using communication, overcoming obstacles and being able to deal with different customers were things I acquired."
Our interns exhibited resilience, dedication and problem-solving skills through their work in the commercial, as considerably as in various administrative departments.
Ibrahim Dagher, a senior in business, had also experienced the commercial side. He set high goals for himself in the field and was able to achieve them on his own. "I had to cover North Lebanon, so I was able to visit 500+ shops. It was difficult, but at the same time rewarding."
On the other hand, Sami Ashi, recent ITM graduate, learnt how to manage his time, work under pressure and conform to deadlines in the IS department. He was able to impress management through his perseverance and wit. "I was able to finish reports, the ones that took weeks to complete, in just few days. The data I was given usually needed a month or so to organize, but I managed to finish it in four days." as Ashi explained.
The firm's general manager recognized his hard work, and felicitated him on a job excellently done. It would be worth-mentioning that, Ashi was one of the valuable candidates from LAU, and was selected to be the part of the PMI team.
For more information about career & placement, please contact Mrs. Lina Abouchacra, ext 1775, or drop by her office in Shannon Hall.