Undergraduate and graduate programs
Tools, services and useful info
Rewarded for Their Talents
Elie Saade and Hiba Stouhi receive their well-earned awards from "L'Academie Libanaise de la Gastronomie"
Aug 07, 2015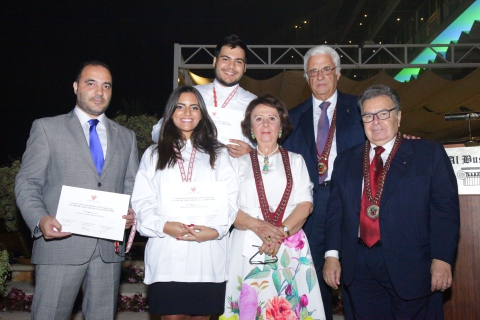 The winners after receiving their diplomas, with Farid El-Khazen, Walid Mouzannar and Anbara Dabbous

A ceremonial dinner was held on July 13, 2015 at the Hotel Al Bustan, following the yearly competition for hospitality management schools in Lebanon organized by the Lebanese Academy of Gastronomy which had deemed our students Elie Saade and Hiba Stouhi winners for their culinary talents and their impeccable presentation. Adnan Kassar School of Business was represented at the dinner by Dr. Josiane Fahed-Sreih, chair of the Department of Hospitality Management and Marketing.
The ceremony, which was highlighted by an exquisite gastronomic buffet and barbecue, began with a tribute to Mr. Serge Hochar who was a distinguished member of the academy, with dedication speeches given by the president, Sheikh Fouad El-Khazen, and the general secretary, Mr. Walid Mouzannar.
After brief presentations of the new and acclaimed academicians who would be joining the academy, it was the winners' turn in the limelight – the diplomas were given by Mr. El-Khazen in the presence of Mr. Mouzannar and Mrs. Dabbous, head of the committee for competitions. Aside from the monetary rewards received according to rank, winner of the competition, Elie Saade, would also be eligible for a training at a 5-star restaurant abroad.
Well-earned, Elie and Hiba!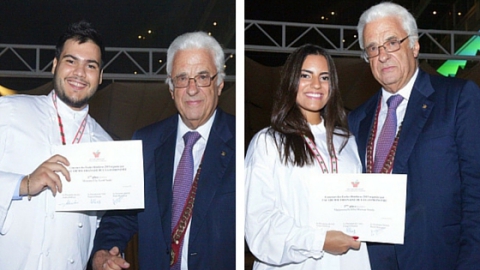 Elie and Hiba with Mr. Farid El Khazen