Undergraduate and graduate programs
Tools, services and useful info
How Would You Awaken the Inner Lion?
Students from the Consumer Behavior course present their strategies for an improved Lion Bar to Nestlé Middle East.
Jan 29, 2016
According to the renowned management consultant Peter Drucker, "the aim of marketing is to know and understand the customer so well the product or service fits him and sells itself."
Today, more than ever before, businesses find themselves compelled to adopt customer-centric strategies to sustain their competitiveness in an ever-evolving and globalized market. In this respect, the Department of Hospitality and Marketing at AKSOB has been directing its efforts toward integrating practical learning in its curriculum by promoting business collaborations. These collaborations allow students to work on actual cases so as to gain essential hands-on skills in marketing research, consumer behavior and advertising.
Marketing students who have taken the Consumer Behavior course (MKT304) in the past couple of years have been involved in many projects for multinationals such as Beesline, Leo Burnett, and recently, during Fall 2015, for Nestlé Middle East.
Nestlé is a global food and beverage giant with a vast portfolio of renowned brands in almost all nutrition and wellness categories. The Lion Bar is part of a plethora of brands that Nestle offers in the chocolate and confectionery category. According to the Department of Hospitality Management and Marketing, the aim of the project with Nestlé was to involve the students from the four sections of Consumer Behavior (MKT304) in a case study on the Lion chocolate bar. The students were required to suggest marketing strategies to boost the brand, based on a thorough market research analysis.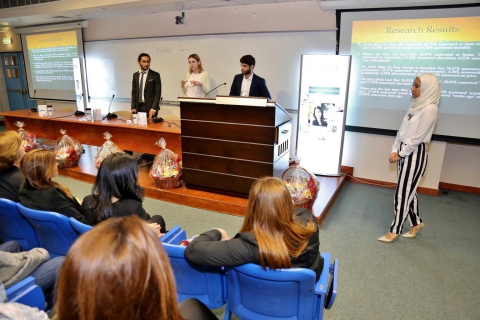 Team 1, students of Mrs. Nadia Azzam's class
The main objectives of this collaboration with a worldwide company such as Nestlé were to provide:
- A competitive learning activity based on a real marketing case rather than a hypothetical one where students can apply theories covered in class;
- A Hands-on involvement with the current market to discover some of the market problems, challenges and threats;
- An opportunity to meet and network with key people in a leading company;
- A chance to be selected as a candidate for internship or employment in reputable business companies.
In this respect, Mr. Karim Al-Bitar, Consumer Insights & Marketing Intelligence Manager at Nestlé Middle East flew from Dubai to represent the company and explain to students in Mrs. Nadia Azzam, Dr. Maya Farah and Dr. Mona Mrad's classes about the project that they would work on and its expected outcomes.
On December 3, 2015, the best seven teams, selected from all three classes, proposed their creative re-branding ideas and solutions to boost the market share of the brand. The competition took place in the presence of a jury of Nestlé's managers and supervisors, the chair of the Department of Hospitality Management and Marketing, Dr. Josiane Fahed-Sreih, as well as a number of AKSOB faculty members.
A vision, a consumer study, advertising material and marketing channels – all these elements were present in the students' proposed plans, yet, with different perspectives, as each team exuded its own character. The presentations showed creativity and diversity, making the two-hour event rich and enjoyable for all the attendants, especially given the interesting and humorous approach used by most of the teams.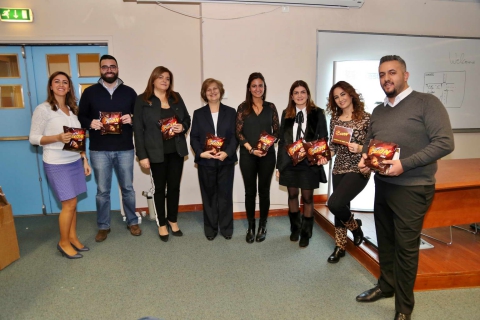 Our Faculty with the Nestlé jury
At the end of the seven presentations, the Nestlé jury convened on their own in order to evaluate the work of each group and select the winner. As the general business manager of Nestlé Lebanon, Mrs. Yasmine Barbir, stated, the jury was pleased with all the teams and appreciated their hard work as well as originality. Indeed, Mrs. Barbir addressed the students saying: "I salute your courage. It's something to recognize, you all did a great job in terms of content, research, strategy, presentation and effort. You have an advantage: we did not have this type of opportunities when we were at university." She also advised students to exhaustively plan, work on communication skills, summarize and sell their ideas.
Each member of the jury took the time to extend personal encouragement and advice to the students. The former were all pleased with the quality of the work presented, however, one team stood out with their attention to details as well as their multidimensional approach to the case at hand, and were selected as the winners– Dr. Maya Farah's students, members of team 4, Nayla Abboud, Lea El Jalkh, Loulwa Kebbe and Caren Salha impressed the jury with their extra work on consumer analysis and strategy. The winners were promised priority in future internship and employment opportunities at Nestlé; however, all students were unanimously content with this experience, which honed their research skills as well as reinforced their interest in marketing. Nestle distributed to each member of the competing teams a certificate that would definitely add value to their resumes.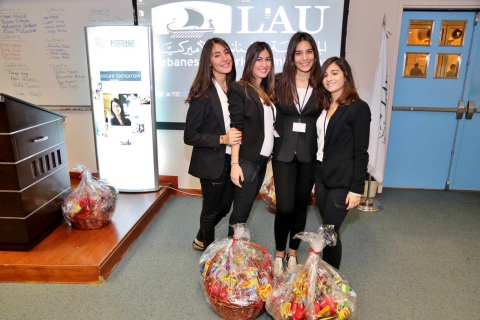 The winners Lea, Nayla, Caren and Loulwa
"We didn't feel like it was just a project or even work we had to do. It made us realize that we had a passion for marketing and we all learnt a lot from this experience," as the business marketing student and winner, Lea El Jalkh, explained. Her colleague, Caren Salha, agreed, saying "we enjoyed working on the project. Thanks to it, I felt I started to notice all marketing materials around me, and I started to critically assess them without realizing that."
Impressed with the results of this business-academia collaboration, the team from Nestlé committed to launching a new competition for the consumer behavior classes during the spring 2016 term. The new project will kick off on February 1, 2016, and the consumer behavior team is eager to get started on the proposed case.
Department of Hospitality Management and Marketing
Photos courtesy of Nestlé