Master of Science in Human Resources Management
Location: LAU Beirut Campus
Total Credits: 30
The Master of Science in Human Resources Management (HRM) at the Lebanese American University provides graduate students with advanced knowledge in the areas of strategic HRM, human resources management functions, and human capital evaluation. In addition, the program will help students develop a thorough understanding of challenges and trends in the HRM field. Students will also learn how to make ethical decisions within the general social and legal framework. Through instructive teaching and original learning methodologies, case studies, and supervised independent research, students will develop greater HRM skills that help them promote organizational performance.
Program Outcomes
Upon completion of the MS in HRM, the graduate will have:
Mastered advanced knowledge and concepts in the field of HRM.
Demonstrated leadership skills.
Learned to apply ethical and legal issues involved in HRM cases.
Developed effective written and oral communication skills, commensurate with the advance management status.
Acquired advanced knowledge of the interface between HRM and other functional areas.
Career Prospects
Transferable skills and extensive knowledge of human resources management qualify graduates to work in any field that relies on human capital.Careers in human resources management include:
Human resources executive
Office manager
Occupational psychologist
Training, talent and development manager
Director of Industrial Relations
Human resources IT specialist
Graduates in Human Resources Management can also fulfill the following roles:
Business adviser
Careers adviser
Data scientist
Higher education lecturer
Life coach
Management consultant
Operational researcher
Recruitment consultant
Risk manager
Sales executive
Trade union research officer
Compensation, benefits, and job analysis specialist
Although most employers will consider graduates in any discipline, the degree can enhance job prospects of graduates in business, economics, finance, psychology, HR, IT and computer science in their respective fields.
Examples of establishments in both the private and public sectors that hire graduates in human resources management:
Healthcare facilities and hospitals
Academic institutions
Small businesses and large corporations
Financial institutions
Manufacturing companies
Telecommunications companies
Technical companies
Retail industry
Leisure industry
Program Requirements
Students must complete a total of 30 credits composed of:
Course Requirements (24 credits)
Research Requirements (6 credits)
Students with a non-business background are required to take additional courses (6 credits) to acquire sufficient general knowledge in human resource management:
Additional courses:
MGT 831 Management Theory (3 credits)
MGT 851 Leadership, Ethics and Team Management (3 credits)
A minimum grade of B is mandatory.
Course Requirements(24 credits):
| Course No. | Course Title | Credits |
| --- | --- | --- |
| HRM 701 | Strategic Human Resources Management | 3 |
| HRM 703 | Recruitment and Selection | 1.5 |
| HRM 705 | Training and Development | 1.5 |
| HRM 711 | Performance Measurement and Management | 3 |
| HRM 721 | Labor Law, Ethics, and Diversity | 3 |
| HRM 713 | Compensation Packages | 1.5 |
| HRM 715 | Job Analysis and Job Evaluation | 1.5 |
| HRM 723 | Return on Investment in Human Capital | 3 |
| HRM 707 | Advanced Organizational Behavior | 3 |
| HRM 717 | Research Methods in Human Resources Management | 3 |
Research Requirements(6 credits):
| Course No. | Course Title | Credits |
| --- | --- | --- |
| HRM 798 | Research Topic in Business: HRM (project) | 3 |
| HRM 797 | Internship (Practicum) in Human Resources Management | 3 |
| HRM 799 | Thesis in Human Resources Management Studies | 6 |
Admissions
We accept students during the Fall, Spring, and Summer semesters.
Applicants are expected to:
Have a sound academic background.
Have completed a bachelor's degree in business studies or equivalent from a recognized university.
Admission is granted on a selective and competitive basis to students who have demonstrated distinct academic ability and motivation by meeting at least the minimum requirements described below.
In addition to a satisfactory proof of English language proficiency as per LAU rules and regulations, applicants to the program are expected to meet the following admissions requirements:
A passing grade on the remedial course, if required
Letters of recommendation.
Interview, if required.
However, please note that meeting these requirements does not guarantee admission to the program.
Students with a non-business background are required to take the following additional courses (6 credits) to garner sufficient general knowledge in human resource management:
MGT 831 Management Theory (3 credits)
MGT 851 Leadership, Ethics and Team Management (3 credits)
A minimum grade of B is mandatory.
Admission to the program takes place in each of the fall, spring and summer semesters.
Also Check: Admission Requirements
Courses
Course Requirements:
HRM 701 Strategic Human Resources Management (3 credits)
This course is designed to outlay fundamentals of strategic human resources management and its significance in attaining a competitive edge in an era of fierce competition. The course will define the major functions of human resources management that will create competitive abilities and competencies. Topics include development, staffing, compensation, safety, employee relations and the viable role of human resources management in strategic planning. The course will pay special attention to the concepts of talent management and performance management and their importance in today's highly successful organizations. Finally, given the increasing integration of technologies in today's organizations, the course will also present an overview of Human Resources Information Systems and their importance for HRM success.
HRM 703 Recruitment and Selection (1.5 credits)
Recruitment and selection represent vital organizational activities for finding and employing the optimal set of workers for specific jobs in specific organizations. In this course, students will be presented with various approaches and strategies for attracting the right employees. Topics related to recruitment sources, recruitment methods, and issues and trends in recruitment will be presented. Moreover, the course deals with various employee selection techniques such as behavioral interviews and personality tests used in making a successful selection outcome. The students will also be taught trends and innovations in the area of employee selection.
HRM 705 Training and Development (1.5 credits)
This course provides an in-depth discussion of the process of training and development. It exposes the students to the benefits of training and investing in human resources in attaining a competitive edge. Training and development are designed to improve employee's competency and organizational performance. It covers the different training and development delivery systems and programs. In addition to that, students will learn the concept of Organizational Development and the various organizational development techniques.
HRM 711 Performance Measurement and Management (3 credits)
This course emphasizes identifying, measuring and developing the performance of individuals and teams and aligning their performance with the strategic objectives of organizations. The course includes discussions related to the methods, tools, and processes used in appraising employees' performance relative to the job and corporate objectives.
HRM 721 Labor Law, Ethics, and Diversity (3 credits)
This course deals with a variety of interrelated topics, namely the legal and ethical aspects of the business. First, the Lebanese labor law will be discussed, focusing on the laws and regulations pertaining to human resources issues in the workplace. An overview of different labor laws in Europe and the US will also be presented. Second, the course deals with a variety of topics in ethics and diversity. In particular, the ethical principles, philosophies, and practices are presented with a special emphasis on its application in the business world and its implications for the HRM field. Other topics under the ethical dimension include workforce health and safety, corporate social responsibility with discussions on its significance in corporations today, whistleblowing, and code of conduct. Finally, the course presents various topics on diversity management and inclusiveness.
HRM 713 Compensation Packages (1.5 credits)
This course deals with all aspects of compensation involving direct financial compensation, employee benefits, and non-financial rewards. The course stresses the importance of developing a reward system that is strategically aligned with organizational objectives while ensuring employee motivation for high performance. Major discussion areas involve administering and building a pay system, pay equity, customizing employee benefit plans, and building a rewarding job environment.
HRM 715 Job Analysis and Job Evaluation (1.5 credits)
Job analysis serves as a foundation for the successful implementation of all HR functions and HR activities, especially job evaluation. In this course, we will learn about the job analysis process, including the methods and techniques used for collecting data about a job which is necessary for creating job descriptions. Data collected from the job analysis is used to evaluate each job and determine a job's worth or importance in the firm. The course will discuss the procedures and practices that are used today to evaluate jobs accurately and for ultimately determining wages and salaries to be paid for each job according to its importance in the firm.
HRM 723 Return on Investment in Human Capital (3 credits)
The course will evaluate the tangible and intangible costs and returns associated with developing people within an organization, including the calculation of profits per employee, and of other HR measures.
HRM 707 Advanced Organizational Behavior (3 credits)
The purpose of this course is to acquaint you with several major topics of interest in organizational behavior and to provide an introduction to major theories and empirical research in these areas. The course is designed to provide an understanding of organizational behavior and recent and future trends that affect people at work. An in-depth investigation of several important areas in the field including areas of contemporary interest will be discussed. Students will appreciate and value the richness of theory and research on various traditional and contemporary organizational behavior topics. Moreover, the course includes a special component on ethics and leadership, whereby students will be able to integrate ethical and leadership principles and theories. Topics include individual behavior, group behavior, leadership, conflict resolution, organizational culture and structure, and ethics.
HRM 717 Research Methods in Human Resources Management (3 credits)
This course is an examination of research methods applicable to the identification, definition, and problem resolution in a business environment, emphasizing methodological aspects and data collection and analysis techniques. Topics include problem identification and definition, hypothesis formulation, selection of appropriate research designs, sampling, data collection methodologies, statistical validation, and research report writing.
Research Requirements:
HRM 798 Research Topic in Business: HRM Project (3 credits)
This course entails the application of research methods to a current topic relevant to HRM. The project must incorporate the student's hypothesis, test methods, test results, and conclusions.
Prerequisite: HRM 717
HRM 797 Internship (Practicum) in Human Resources Management (3 credits)
An internship is a career-related position for graduate students to develop or expand their occupational experience over 3 months.
HRM 799 Thesis in Human Resources Management Studies (6 credits)
This course entails the application of research methods to a topic relevant to HRM in the Middle East. The thesis must incorporate the student's hypothesis, test methods, test results, and conclusions, in an expanded report available to future researchers. In some cases, the faculty may authorize expanded research procedures resulting in high-quality publication.
Prerequisite: HRM 717
Students & Alumni Testimonoials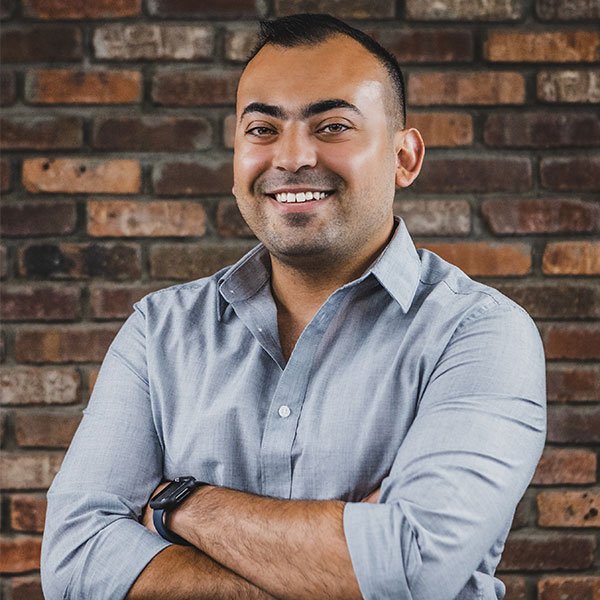 Fawzi Aidi
My experience in the MSc HRM program was truly exceptional. The curriculum provided an in-depth exploration of the latest trends in Human Resource Management, allowing me to explore challenges and opportunities one might face in one's career. After graduating, I moved to Canada and started working as an HR Manager in a Home Design Company. I also got the chance to teach business management and HR courses at a local college. Finding a job was seamless. For future MSc HRM students, I encourage you to ask questions and share your thoughts with your instructors. Also, if you have the chance to engage in a research project with one of the professors, do not hesitate to do so. The MSc HRM degree at LAU is a rare opportunity that can open doors to pursuing a career in human resource management. Graduates of this program have a remarkable edge over other candidates in the job market, and it is a worthy investment in one's future success.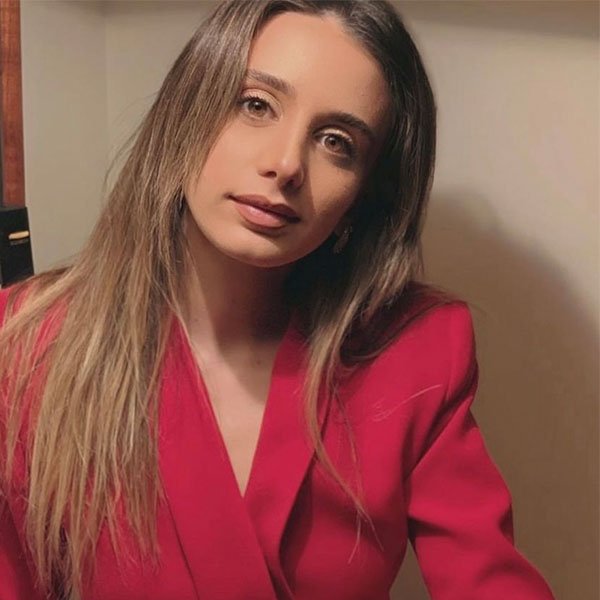 Haya Ramadan
I had an overall great experience pursuing my MSc HRM. The professors were most knowledgeable and supportive and did an excellent job of conveying new information and helping me develop a comprehensive understanding of different aspects of human resources. Through their guidance and expertise, I gained a deeper insight into the field of HRM. After completing my MSc in HRM, I was able to secure a job in HR, which was a great accomplishment for me. It was truly exciting to be able to apply what I had learned in real-life scenarios and to see how my studies translated into practical, tangible outcomes. If you have a passion for helping people thrive, then pursuing a career in human resources is an excellent choice. I highly recommend LAU as the best place for doing so, as it provides a comprehensive and immersive learning environment that prepares you for success in this field.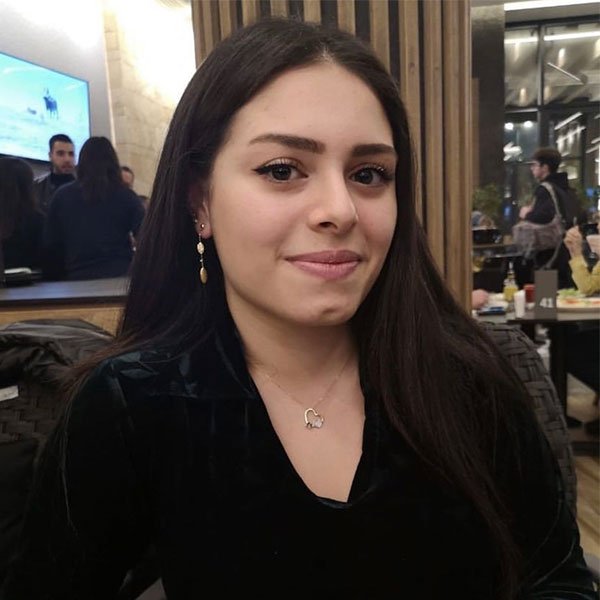 Maria Razzouk Shehadeh
The MSc HRM was an excellent opportunity to meet people from diverse backgrounds who worked in different industries. Some students came from a non-business background, while others already had extensive experience in their careers and were looking to enhance their knowledge by pursuing an MSc HRM degree. There were also fresh graduates like me who wanted to specialize in HR and continue their education. When I started the program, I had minimal knowledge of HR, but the interactive courses allowed me to learn from my peers' experiences. Throughout the program, we solved case studies and completed projects that made the theoretical concepts practical and easier to understand. I gained detailed knowledge in each of the HR fields, which made me more confident in applying them in real-life situations. Thanks to the internship course in the MSc program, I had the opportunity to train in one of the top companies, and put my knowledge into practice, which boosted my profile and helped me land a job easily as a fresh graduate. Whether you are interested in shifting your career to HR or want to advance your career in HR, this program is a great opportunity for you. That LAU is an accredited university and its business school has been ranked first in Lebanon is a great added value for its graduates.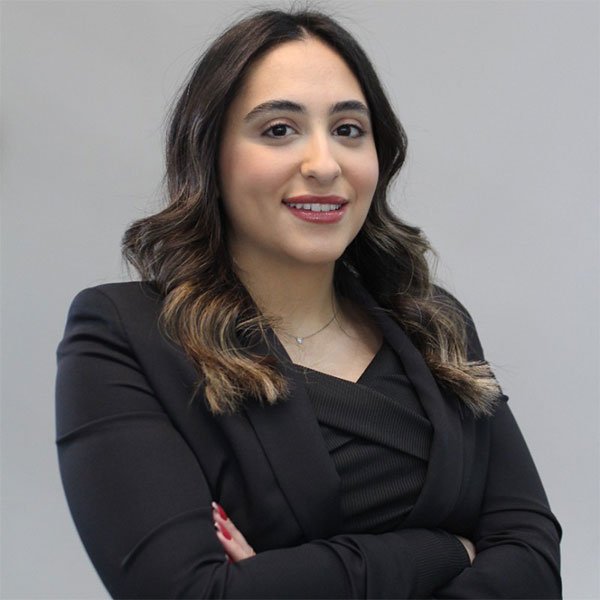 Stephany Srour
I am currently in the LAU MSc HRM program's final semester, and my overall experience has been more than positive. The curriculum is highly practical and applicable to the workplace, which has greatly benefited me on a professional level. As a Learning and Development Officer, I have acquired a multitude of applicable skills. I really enjoyed the group projects we completed in every session, which gave us the opportunity to learn from others' experiences and share our own. In addition, in the Compensation Packages course, we were given the option to deliver presentations on trending HR themes, which I found informative and intriguing. I loved being able to share my work experience with others, which enabled them to learn about real-life professional experiences. Ever since I graduated, my plan was to join a reputable university to complete my graduate studies, and LAU's MSc HRM program caught my attention as it covers all aspects of HR activities. Being part of this program helped me pursue my dreams and plan my future. Eventually, my goal is to advance in my career and use what I have learned to enhance internal processes at work. I am confident that the knowledge and skills I have gained from the program will be significant in helping me achieve my objectives. I highly recommend enrolling in the MSc HRM program at LAU. It is an excellent opportunity to expand your human resources skills and expertise. With its comprehensive curriculum that covers various HR functions, this program can assist individuals in achieving their personal and professional objectives. The program's experienced instructors provide practical knowledge and hands-on learning opportunities that prepare students for real-world scenarios. By enrolling in the MSc HRM program, you become part of a community of HR professionals, gain access to networking opportunities and build long-lasting connections that will benefit your career growth. The program is an excellent investment in your future, a chance to advance your skills and knowledge to the next level.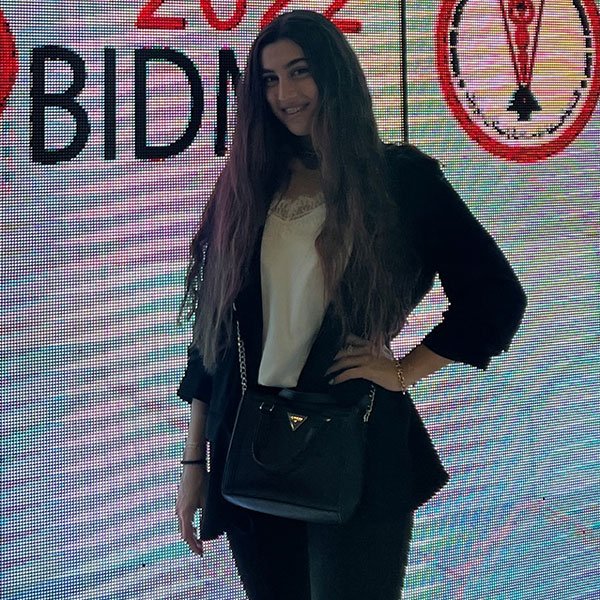 Yasmeen El Dimassi
I am currently enrolled in the MSc HRM program at LAU, and I have found it to be an extremely rewarding experience. I learned about the program through LAU's website and from speaking with alumni who had positive feedback about the curriculum and faculty. Once I graduate, my goal is to pursue a career in human resources management, ideally in a leadership position. I believe that the skills and knowledge I'm acquiring in the program will enable me to make a significant contribution to organizations' HR departments. Specifically, I will be able to apply what I am learning in areas such as employee recruitment and retention, training and development, compensation and benefits, and employee relations. To potential applicants who are considering an MSc HRM degree at LAU, I highly recommend this program for those interested in pursuing a career in human resources management. The program's curriculum is rigorous and comprehensive, and the faculty is dedicated to providing students with the knowledge and practical skills necessary for success in the field. If you're interested in advancing your knowledge and skills in human resources management, this program is an excellent choice.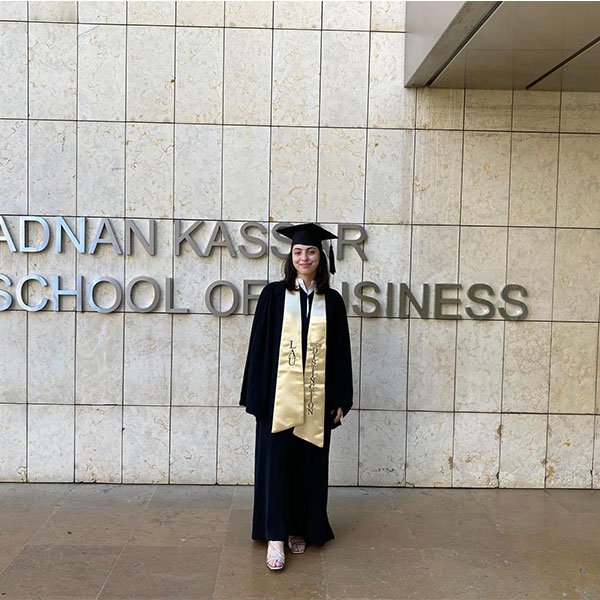 Nadwa Badran
My MSc HRM experience was extremely enriching, both personally and educationally. On the personal level, I really enjoyed the collaborative teamwork and social interaction with my classmates, who have now become my friends. From an educational perspective, the program broadened my knowledge and understanding of the human resources field, which I find particularly fascinating, especially since I enjoy interacting and engaging with people. Furthermore, human resource management is an essential aspect of any corporation as human capital is its most valuable asset. The MSc HRM was instrumental in helping me secure internships and gain a competitive advantage, as it is a highly specialized and comprehensive program that covers all human resources functions. My message to future MSc HRM students is that this program would be an asset in their education, providing them with a competitive edge and enhancing their knowledge, skills, abilities and others (KSAOs) to find a suitable job in the HR field. For potential applicants considering the MSc HRM program at LAU, I urge you to believe in your capabilities and be prepared to fully embrace this journey.